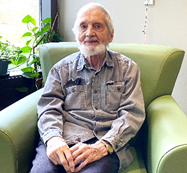 A graduate of St Mary's College, Rathmines in his native Dublin, Fr Tom was one of over three dozen Irish Spiritans ordained in 1955.
He worked in Nigeria for a decade and a half in educational roles until, along with a large number of his fellow Spiritans, he was expelled in 1970 at the end of the Biafran War.
Having served briefly in both Rome and Sierra Leone, he moved to Canada – on a short sabbatical! – in the mid-1970s.
45 years later and having done pastoral ministry for many years, mostly in Alberta, he is now enjoying retirement in Toronto where he was pictured earlier this year.
+