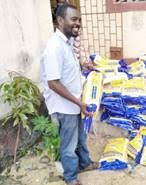 In Spiritan Newsflash N° 207 (March 2019), under a heading of "Idai victims need help urgently", the Generalate in Rome appealed for a generous response to Cyclone Idai which had just devastated parts of Mozambique (as well as parts of neighbouring countries). Cyclone Kenneth, which was to follow only a few weeks later, also caused much devastation to areas (further north) in Mozambique.
Confrères in Beira, the east coast city very badly affected by Cyclone Idai, successfully applied for a Misean Cara emergency grant of €15,000. In his application, Nicholas Chendamukanwa C.S.Sp. (pictured) indicated that Beira, which is below sea-level, is regularly affected by floods. Communities in areas such as Vaz, which is highly populated and with many precarious buildings, are especially vulnerable. Cyclone Idai left many houses without their roofs, and some 80% of all the houses in Vaz were destroyed. Many subsistence farmers have lost all their crops. The water has been contaminated and there has already been a number of cases of cholera.
Spiritans are focussing on helping with food items, clothing and medicines. In co-ordination with the Red Cross and Caritas and with the help of the community leaders, they "are targeting the children who are mostly orphaned, widows and the aged". A little under 1,000 people, the majority of whom are female, would be expected to benefit directly with indirect benefits to a slightly smaller number.
John Kingston C.S.Sp. has thanked all those moved to make a donation and has written his account of a visit to Beira in the wake of the first cyclone. See here. The Religious Sisters of Charity have contributed €5,000 to post-cyclone relief work by the Spiritans.
+