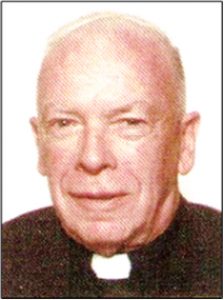 Malawi, a republic in south-eastern Africa, has had a Spiritan presence since 1971 when 11 confrères, all from Ireland, were assigned to the Archdiocese of Blantyre. 
The initial group included Fr Denis Gavin (pictured) from Co. Roscommon; Fr Denis ministered in Malawi until his return in 1980 to Ireland where he subsequently gave some 4 decades of service in Blackrock College.
Today a number of confrères minister in Malawian parishes; others are attached to the Spiritan Postulancy in Limbe.
Fr Locky Flanagan and Fr Webster Chifuwe, from the TransCanada and Zambian Provinces respectively, serve in the Spiritan House of Philosophy (Inter-Congregational Institute) in Balaka. TransCanadian confrères first arrived in 1973; the first African Spiritans to minister in Malawi came 20 years later.
There currently are some 20 ordained Malawian Spiritans. 21 seminarians (from Malawi itself, Kenya, Mozambique, Zambia and Zimbabwe) are in formation at the Institute.
Spiritans buried in Malawi include Fr Tony O'Boyle from Co. Mayo, who previously served in Sierra Leone and who died in 2001 at the age of 51.
Image by teresa cotrim from Pixabay
+