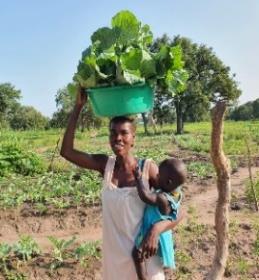 Angelina (pictured) and her family of 10 had long depended on food aid. The unreliability of aid led them to embrace an agriculture project that was funded by Misean Cara / the Spiritans in 2020.
Soon after transplanting, Angelina was happy to see that her plots were covered with a variety of tomatoes, okra and other vegetables. Earnings from the sale of vegetables that she had produced meant that her family could now afford three meals a day and were also able to purchase other essential foodstuffs. As water supply continues to be a challenge to the production of vegetables during the dry season, Makuragar women's agricultural group, of which Angelina is part, sought the assistance of the Spiritans to construct another water borehole.
Other South Sudanese projects funded by Misean Cara and supported by the Spiritans since 2014 include the Wulu women's agricultural group, Malou leprosy community and St Joseph's school.
John Skinnader C.S.Sp., from Co. Monaghan, is one of five Spiritans serving in South Sudan.
+