The archives of the Irish Spiritan Province (the Province) are held in the Spiritan Heritage & Archive Centre in Kimmage Manor.
The Centre wishes to encourage and nourish the flourishing of the Spiritan charism, and to increase awareness / understanding of the Province's missionary tradition, past and present.
The archives are collections of documents, DVDs, films, memorabilia, photographs and videos selected for permanent preservation because of their value as a source for research, historical or other. They form an important part of the Province's recorded history – official and unofficial.
The Centre has begun the work of document digitisation. On completion, each catalogue – in pdf format – will be available on request.
Major collections include:
The administrative history of the 1859 origins of the Province, and its ongoing life.
Biographical records of all members of the Province.
Records and documents on the work of members of the Province on the home mission in areas including development-education, ecumenism, education, formation, fund-raising, justice & peace, and retreat-giving.
Materials relating to overseas mission in: Angola, Australia, Botswana, Brazil, Canada, Ethiopia, The Gambia, Ghana, Kenya, Liberia, Malawi, Mauritius, Mexico, Nigeria – including a unique collection relating to the 'Biafran War' (1967-70) –Pakistan, Papua New Guinea, The Philippines, Sierra Leone, South Africa, Taiwan, Tanzania, Uganda, USA, Vietnam and Zambia.
Spiritan Heritage Videos
Glowing Embers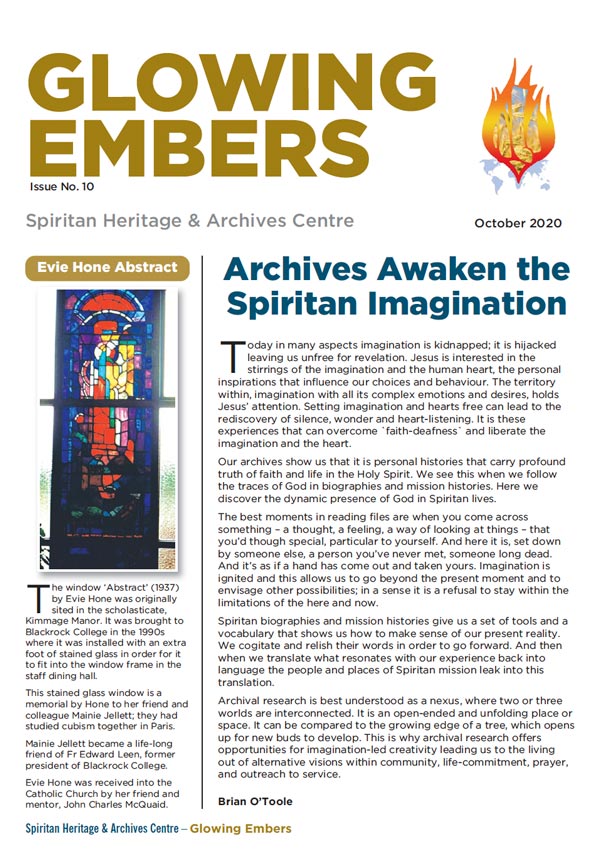 Glowing Embers: October 2020